Texas Reservoirs
•
Upper Neches Watershed
Lk Jacksonville Nr Jacksonville
RESERVOIR REPORT
September 29 2023
420 ft
0% today 100% of Normal

•

Normal

Water lake or reservoir water surface elevation above ngvd 1929, ft levels at Lk Jacksonville Nr Jacksonville are currently 420 ft, about 100% of normal. The average for this time of year is approximately 420.61ft. Maximum recorded Lake or reservoir water surface elevation above NGVD 1929, ft since record keeping began in 2007 was 2016-06-14 when levels reached 424.27 ft. Lowest recorded Lake or reservoir water surface elevation above NGVD 1929, ft was 2011-11-18 when levels receded to 416.36 ft. View historical levels.

Lake Jacksonville is a reservoir located in Cherokee County, Texas. The lake was created in 1957 by constructing a dam on Gum Creek, which is a tributary of the Neches River. The purpose of the lake was to provide water supply for the city of Jacksonville.

The hydrology of Lake Jacksonville is dependent on rainfall and runoff from the surrounding watershed. The lake has a surface area of 1,320 acres and a maximum depth of 62 feet. The lake is fed by numerous small tributaries and has a specific surface flow of 3 feet per day.

There is no snowpack in the area surrounding Lake Jacksonville, as the climate is relatively warm and mild throughout the year. However, the lake is an important source of water for agricultural purposes and is also used for recreational activities such as fishing, boating, and swimming. The lake is stocked with various species of fish, including largemouth bass, catfish, and crappie. There are also several campgrounds and picnic areas located around the lake, making it a popular destination for outdoor enthusiasts.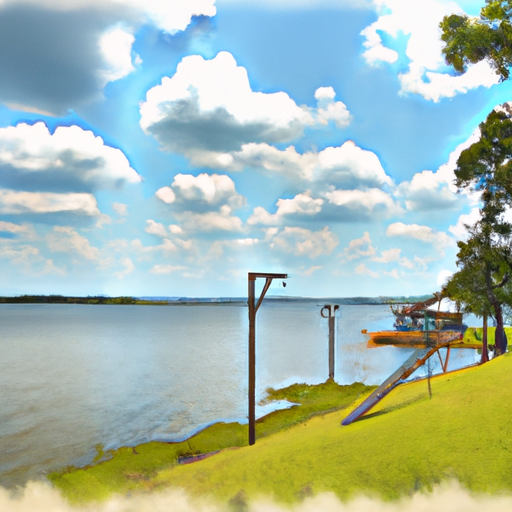 Geolocation
-95.310, 31.906
Elevation
416.56 ft
Lake Or Reservoir Water Surface Elevation Above Ngvd 1929, Ft 24hr Change
0%
Percent of Normal
100%
Minimum
416.36 ft
2011-11-18
Maximum
424.27 ft
2016-06-14
Average
421 ft
AREA SURFACE FLOWS