Texas
•
Middle Brazos-Palo Pinto Watershed
Possum Kingdom Lk Nr Graford
June 5 2023
995 ft
+0.02% today 100% of Normal

•

Normal

Water lake or reservoir water surface elevation above ngvd 1929, ft levels at Possum Kingdom Lk Nr Graford are currently 995 ft, about 100% of normal. The average for this time of year is approximately 996.1ft.

Maximum recorded Lake or reservoir water surface elevation above NGVD 1929, ft since record keeping began in 2007 was 2015-05-27 when levels reached 999.66 ft. Lowest recorded Lake or reservoir water surface elevation above NGVD 1929, ft was 2014-09-24 when levels receded to 983.75 ft.

Possum Kingdom Lake is a reservoir located in Palo Pinto County, Texas. It was created in 1941 by the Brazos River Authority to provide hydroelectric power to the area. The lake covers an area of 17,000 acres and has a shoreline of around 310 miles. The hydrology of the lake is maintained by inflows from the Brazos River and several small creeks. The lake is a popular recreational spot, with activities such as fishing, boating, and camping. It is home to several species of fish, including catfish, bass, and crappie. The lake also provides water for agricultural purposes, such as irrigation and livestock watering. The area around the lake is also known for its hunting and wildlife viewing opportunities. The flow of the lake is regulated by the Brazos River Authority, with water levels fluctuating depending on rainfall and snowpack conditions. Snowpack providers such as the National Oceanic and Atmospheric Administration (NOAA) and the Natural Resources Conservation Service (NRCS) monitor the snowpack levels in the area to determine the potential impact on water supply. Overall, Possum Kingdom Lake plays a significant role in the hydrology, agriculture, and recreation of the region.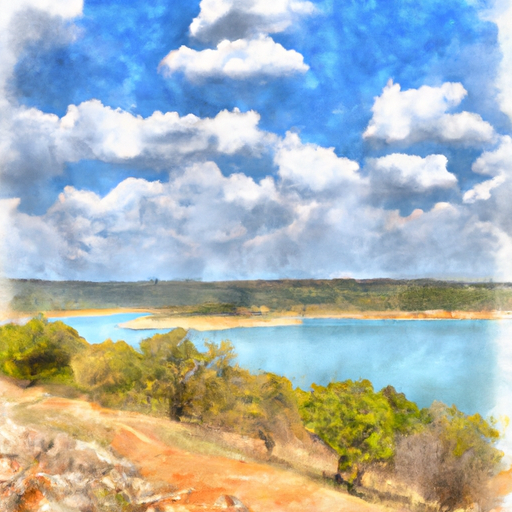 Geolocation
-98.427, 32.871
Elevation
1,000.4 ft
Lake Or Reservoir Water Surface Elevation Above Ngvd 1929, Ft 24hr Change
0.02%
Percent of Normal
100%
Minimum
983.75 ft
2014-09-24
Maximum
999.66 ft
2015-05-27
Average
996 ft
Nearby Reservoirs