Green River Levels
June 5 2023
156,080 ACRE-FT
Discharge Volume Today
-1680.0 cfs (-2.09%) since yesterday 124.24% of Normal

•

20 Streamgauges

Total streamflow across the Green River was last observed at 78690 cfs, and is expected to yield approximately 156080 acre-ft of water today; about 124% of normal. River levels are high. Average streamflow for this time of year is 63335 cfs, with recent peaks last observed at 162,130 cfs on 2019-06-23.



Maximum discharge along the river is currently at the

Green River At Mineral Bottom Nr Cynlnds Ntl Park

reporting a streamflow rate of 24,000 cfs. However, the deepest point on the river is located at the

Green River Near Auburn

with a gage stage of 57.28 ft. This river is monitored from 20 different streamgauging stations along the Green River, the highest being perched at an elevation of 7,477 ft, the

Green River At Warren Bridge

.

The river is also a popular destination for whitewater enthusiasts, featuring river runs like A Section, and B Section, a class II+ to III- run. Compare streamflow levels for nearby paddling destinations on the

interactive map

.

River Summary: The Green River is a 730-mile long river that flows through Wyoming, Colorado, and Utah. It is known for its beautiful canyons and unique geology. The river was first explored by John Wesley Powell in 1869 and was a major transportation route for Native Americans and settlers. The river is fed by numerous tributaries and is known for its hydroelectric power potential. There are several reservoirs and dams along the river, including Flaming Gorge Dam, which was completed in 1964 and provides irrigation water for agriculture and recreational opportunities such as boating and fishing. The Green River is also popular for whitewater rafting, hiking, and camping. The river is critical for agriculture in the region, providing water for crops such as hay, alfalfa, and wheat.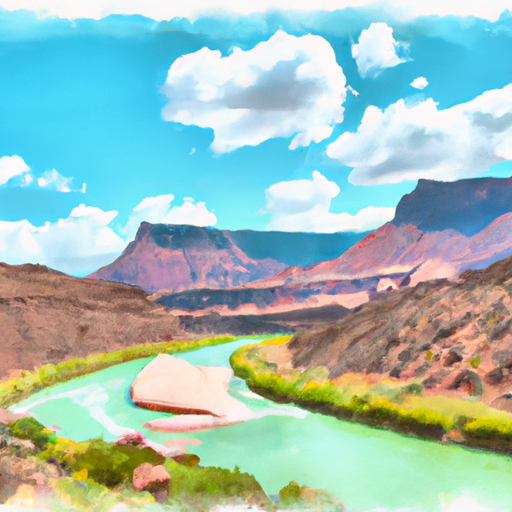 Last Updated
2023-06-05
Streamflow
78,690.0 cfs
Percent Normal
124.24%
Maximum
162,130.0 cfs
2019-06-23