Arizona Reservoirs
•
Middle Little Colorado Watershed
Blue Ridge Reservoir Near Pine
RESERVOIR REPORT
September 27 2023
44 ft
-0.11% today 71% of Normal

•

Low

Water gage height, ft levels at Blue Ridge Reservoir Near Pine are currently 44 ft, about 71% of normal. The average for this time of year is approximately 63.42ft. Maximum recorded Gage height, ft since record keeping began in 2007 was 2008-01-28 when levels reached 103.44 ft. Lowest recorded Gage height, ft was 2014-08-13 when levels receded to 21.22 ft. View historical levels.

Blue Ridge Reservoir is a popular recreational destination near Pine, Arizona, and is managed by the Salt River Project. The reservoir was built in 1965 and covers an area of approximately 100 acres. The hydrology of the reservoir is supplied by the Blue Ridge Dam, which impounds water from the East Clear Creek. The reservoir is also fed by snowpack melt during the spring months. The water from the reservoir is used for agricultural purposes, including irrigation, and for recreational activities such as fishing, boating, and camping. The reservoir provides a habitat for a variety of fish species, including rainbow trout, brown trout, and smallmouth bass. The area around the reservoir offers scenic views and opportunities for hiking and wildlife viewing.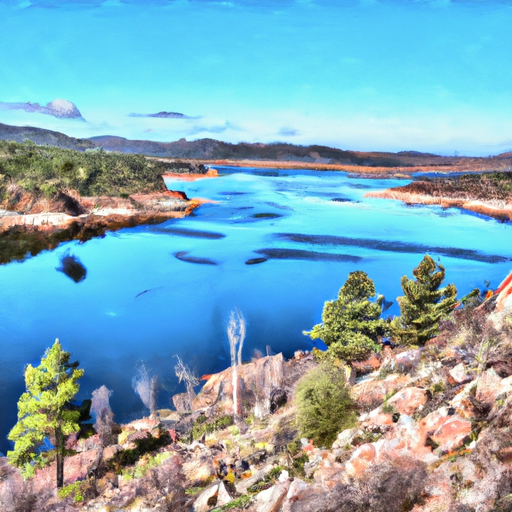 Geolocation
-111.184, 34.555
Elevation
6,620 ft
Gage Height, Ft 24hr Change
-0.11%
Percent of Normal
71%
Minimum
21.22 ft
2014-08-13
Maximum
103.44 ft
2008-01-28
Average
63 ft
AREA SURFACE FLOWS